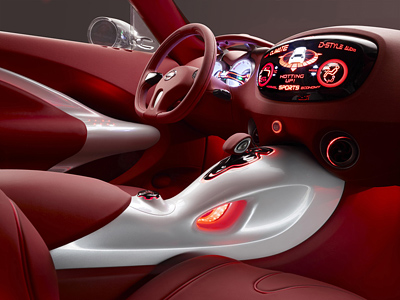 The Nissan Qazana is a new mini SUV to be released by the Japanese car manufacturer Nissan during 2011.

On 11 February 2009 Nissan announced that the model will go into production at the NMUK plant in Washington, UK, during 2010 following its appearance as a concept car at the 2009 Geneva Auto Show.

Compact overall dimensions (4,060 mm (159.8 in) in length, 1,570 mm (61.8 in) tall, 1,780 mm (70.1 in) wide and a wheelbase of 2,530 mm (99.6 in)) indicate that the Qazana would be suited to the urban environment. However, its specification and styling would suggest versatility.

The profile is dominated by the prominent wheel arches and by the body's high waistline, which combine to give an impression of strength and which contrast vividly with the slim side windows. Echoing a style first seen on the Mixim, Nissan's high performance electric coupé concept shown at the 2007 Frankfurt Show, the glasshouse resembles a crash helmet visor.

Source : Wikipedia.com